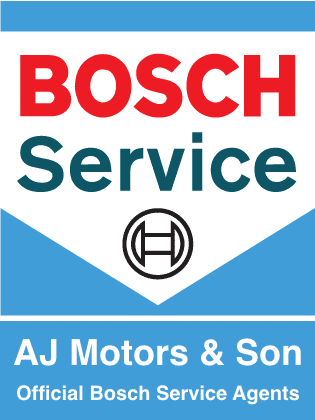 Bosch Car Service garages provide vehicle maintenance, repairs and diagnostic for all makes of vehicles. They guarantee a first class service at an affordable price. The technicians at AJ Motors & Son are trained using the latest technologies and have the most up to date diagnostic equipment to pinpoint any faults with your car as quickly and accurately as possible. Any parts that need to be replaced will be of the sae quality as those that were originally fitted on your vehicle.
The Bosch Car Service network works to an Office of Fair Trading approved Consumer Code of Practice. This commitment to Customer Care gives you peace of mind in knowing that you are going to be given the best Technical Service and the best Customer Service
If you want affordability combined with the highest technical and Customer Service Standards, then AJ Motors & Son can fulfil your needs.
Bosch Diagnostic prices start as low as £45.00 + VAT.
Why Servicing?
There are a number of reasons all as important as each other to have an annual service. It allows you to extend the life of your car, reduce the need for expensive mechanic bills and our full vehicle check allows you to budget for parts you may need in the future due to wear and tear.
Don't let your service go overdue, even if you haven't had your car serviced for quite some time then it is not too late to breath a new lease of life into your car. Regular maintenance improves reliability and makes your vehicle much more fuel efficient.
We only use the most up to date diagnostic equipment to ensure the best possible service for your vehicle. In addition to this we only use genuine parts or parts equivalent in quality to the original equipment. At AJ Motors & Son we service each vehicle to the highest level of manufacturers specification and that no work is undertaken without the customers authorisation. All of our work and parts are guaranteed.
AJ Motors & Son believe in prevention rather than cure, so if you feel you need to chat to one of our specialised service technicians, then please do not hesitate to contact us and we will be happy to help you.
Servicing prices vary on specific models and start from as little as £148.00 + VAT.