From Recover Care to Complete Repair
Courtesy car

Recovery

Vehicle Repair

Replacement vehicle

Liaise with the Insurers

Manage any Personal Injury claim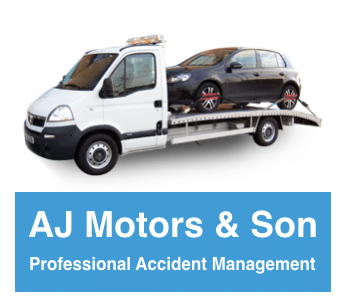 Accident Management
Your 'One Stop Shop' Accident Management Solutions.
If you have ever been unfortunate to be involved in an accident, you want a quick, easy and hassle free solution to your problem.
At AJ Motors we offer the peace of mind and comfort in the knowledge that we handle all the issues on your behalf.
Our Accident Management team will look after you and your needs, providing you with all the services to ensure you we get you quickly back on the road.
Call Our Accident Management Team Today